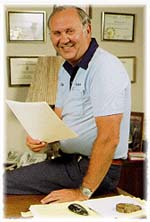 Crop Pro Tech, Inc. is an independent crop consulting firm established by David Harms in 1976, a time when the concept of integrated pest management was in its infancy. Since its inception, Crop Pro-Tech has grown to become one of the largest independent crop consulting companies in the Midwest. It serviced growers in Indiana, Illinois, and Iowa.
Unbiased advice can be offered to farmers because the company does not sell chemicals or seed and has no affiliation with any other company that does. Services offered include field scouting, soil testing, infrared aerial photography, bioassay and cold seed germination testing, and consultations. A periodic Newsletter helps to keep growers informed on current growing conditions and input information.
During the growing season, trained scouts closely monitor farmers" fields. The majority of the crops scouted are field and seed corn, soybeans, wheat, alfalfa, several identity-preserved crops and some vegetables.
By utilizing exact insect counts/measurements and weed pressure mapping to determine thresholds, managers give growers economically advantageous pesticide application recommendations. Other factors affecting crop development that professionals can identify, such as diseases compaction and drainage problems, contribute to the whole program of advice given to farmers to increase their yields and save them money.